FINANCIAL STEWARDSHIP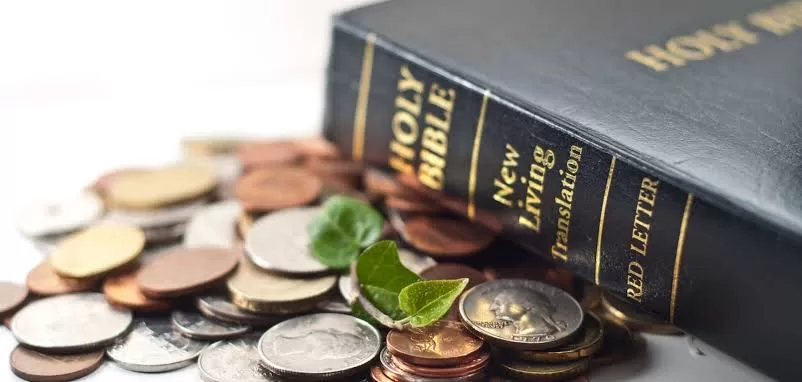 Readings: 1 Chronicles 28, 1 Chronicles 29:1-20, 2 Corinthians 9:8, Deuteronomy 8:18
Definitions
1. What is stewardship? conducting, supervising, or managing of something, especially the careful and responsible management of something entrusted to one's care.
2. Stewards are those who see themselves as accountable for what God has entrusted to them.
3. Financial stewardship is just a portion of what God entrusts to our care. (Our children, time, health, life, etc. are entrusted to us by God's grace)
An example of stewardship from the life of David
A. He had it in his heart to build a house as a place of rest for the ark of the covenant of the LORD (1 Chronicles 28:2, Psalm 132:4-5)
B. He openly acknowledged that God had chosen his son instead of him to build a house for His Name (1 Chronicles 28:3,5) – How many of us are willing to support others to build what God has chosen them to do for His glory? Are we humble enough to accept that another person has been chosen for the task and support because it's all about the Lord?
C. He recognised the importance of serving the LORD with wholehearted devotion, demonstrated it and encouraged his son Solomon to do the same (1 Chronicles 28:9-10),1 Chronicles 28: 11-13, 1 Chronicles 28: 19. 2 Corinthians 9:8 says—God is able to make all grace abound toward you; that ye, always having all sufficiency in all things, may abound to every good work. We can see an example of how this verse (2 Corinthians 9:8) came to pass in this chapter.
D. David recognised that he was chosen by God's grace, so he knew it was not about him (1 Chronicles 28:4). David also recognised that his son was chosen by God's grace because Solomon was young and inexperienced (1Chronicles 29:1). God uses the weak things… Solomon was a least-likely just as his father David was.
Why should we faithfully steward God's finances?
Because it all belongs to God, and we came here with nothing (1 Timothy 6:7). Everything we have has been given to us by God. The life we have, the talents, and gifts (things we assume come naturally) have been carefully woven into us by God's grace. (Psalms 50:10-12)
How do we faithfully steward God's finances?
A. The first step is recognising that you are a steward of God's resources which includes His finances. 1 Chronicles 29:12 says, both riches and honour come of thee, and thou reignest over all, and in thine hand is power and might; and in thine hand it is to make great, and to give strength unto all.
Deuteronomy 8:18 But thou shalt remember the Lord thy God: for it is he that giveth thee power to get wealth, that he may establish his covenant which he sware unto thy fathers, as it is this day.
B. Surrender – recognising all belongs to God. Even life, strength, and breath belong to Him and without Him, we are truly nothing. Psalms 50:10,12; John 15:5, 1 Chronicles 29:14-16. If your heart is devoted to the Lord wholeheartedly, He will flow through you to accomplish His purpose on earth. We all have a part in God's plan but are we willing to cooperate with Him? 
Reflections
1. Are you faithful with the "little" right now where you are? Or are you waiting to be faithful with the much? (faithfulness starts with the little…)
2. Do you seek God for His leading in the life He has given you and, in every area, including finances? 
3. We are here for a season and a part of God's story so how are we using what He has given us?
Additional points:
→ 1 Chron.28:8-9 – We don't only reach out to the congregation with God's Word (preaching to the masses), but the call is to our family members too (sons and daughters).
→ From 1 Chron.28:4 where we see that God uses people who "don't qualify", it is encouraging to know that God knows us and sees us right where we are – He knows our address! We don't need to do anything to catch His attention, even regarding personal needs/desires such as relationships, etc.
→ Ps.33:12 – Judging by how the people gave, they were wealthy, not just their king.
→ 1 Chron.29:9 – see the impact/influence of the leaders and how they encouraged the people through their generosity.
→ David's generosity was in worship and total devotion to the LORD, first and foremost. He even acknowledges that the people of Israel did not have to be the ones building the temple, that it was an honour (1Chron. 29:14-15). This is humility.
→ David made it very clear to the people what the resources were for – building God's temple. Transparency is key when seeking communal funding for a cause/project.
→ What is the opposite of stewardship? Failing to acknowledge that the wealth (or whatever else) belongs to the LORD and not us.
→ Abraham and Isaac: Abraham loved and deeply valued his son Isaac, and God tested Him (in love) to see how faithful he would be. Sacrificing wealth would've been easy for Abraham, but his only son born to him in his old age? It could not have been easy to let go. Yet he did, and it was credited to him as righteousness (believing God despite the huge 'outrageous' sacrifice, and Isaac didn't die!)
→ The wealth the LORD gives has a purpose – to fulfil covenant.
→ If God is our Provider, we don't go to work to make money – we go to work as Christ's ambassadors… So what are we doing for His glory while there?
→ If you want to be a good steward, you need to die to self and fully depend on God.