Shown Grace, To Show Grace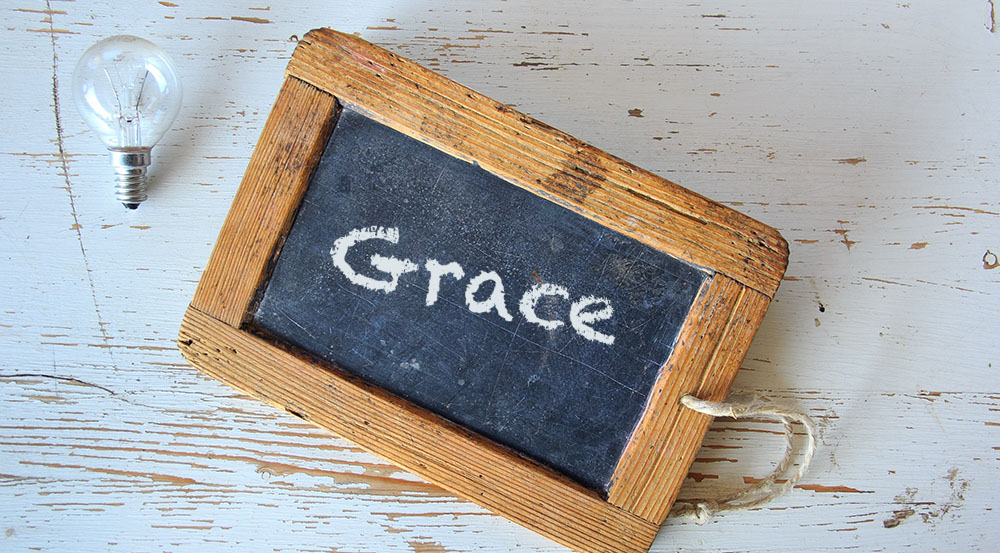 Galatians 6:2 – "Bear ye one another's burdens, and so fulfil the law of Christ."
Romans 15:1 – "We then that are strong ought to bear the infirmities of the weak, and not to please ourselves."

⁃ Many at times in our dealing with other people, especially those who belong to the household of faith, we tend to forget where we were picked from by God and ultimately we also forget the work of the cross.
⁃ In Galatians, the Bible couples bearing one another's burdens with fulfilling the law of Christ (which is love) and in Romans, it talks of those who are strong bearing with the infirmities of those who aren't to their level; these two verses speak of a principle which we more often than not forfeit and it's about showing the same Grace we have received to others.
⁃ On two occasions, we see Christ charging us to do two things that He freely did for us: Matthew 11:28 – "Come unto me, all ye that labour and are heavy laden, and I will give you rest." Now just like he bears our burdens, contrast with the verse in Galatians 6:2.
⁃ John 3:16 – "For God so loved the world, that he gave his only begotten Son, that whosoever believeth in him should not perish, but have everlasting life." Now contrast this with 1 John 3:16 – "Hereby perceive we the love of God, because he laid down his life for us: and we ought to lay down our lives for the brethren."
⁃ So the question is, why would Christ ask us to do things He did Himself? It's because Christ doesn't allow us to see or experience something for our excitement; it's always for the edification of the His body.
⁃ He chose to show us grace for more people to experience it from us as well.
⁃ In Matthew 22:39-40: "And the second is like unto it, Thou shalt love thy neighbour as thyself. On these two commandments hang all the law and the prophets."
⁃ In the portion of scripture above, Christ summarizes the whole law into a bidirectional form of love, our love for God and our love for fellow men. Now that Grace was given out of God's love for us, we also out of the love referred to in the portion of scripture should show the same Grace and in so doing is the law actually fulfilled.
⁃ So essentially, showing Grace, just like it was for God in John 3:16, is hinged on the greatest currency in this faith which is love as Paul illustrated in 1 Corinthians 13:13, that love is the greatest.
⁃ It's in embracing, knowing and understanding God's love that you can yourself can show love to people and even when they don't deserve it, just like we didn't, you will be able to show Grace because you have a point you're operating from.
Case study ; Matthew 18:21-35:
⁃ "The servant, therefore, fell down, and worshipped him, saying, Lord, have patience with me, and I will pay thee all. Then the lord of that servant was moved with compassion, and loosed him, and forgave him the debt. Verse 26-27.
⁃ And his fellow servant fell down at his feet, and besought him, saying, Have patience with me, and I will pay thee all. And he would not: but went and cast him into prison, till he should pay the debt." Verse 29-30.
⁃ This is a time when Peter came and asked Christ how many times they had to forgive their brothers, and after he answered them in a manner they didn't expect, He gives a parable of a servant who was shown Grace but didn't manage to do the same.
⁃ There was a master whose servant owed him ten thousand talents and at first he had commanded him, his wife, his children and all he had to be sold, but after pleading with the master, the master was moved with compassion and forgave him of his debt.
⁃ However, after that servant left, he found his fellow servant who owed him a hundred pence which were way smaller than what he had been forgiven, but he laid his hands on him, took him by the throat and demanded him to pay, and eventually cast him into prison.
⁃ So when the other servants saw that, they reported him to the master, who referred to him as wicked and asked him why he couldn't extend the same compassion he'd been shown. He was later handed over to the tormentors until he finished paying his debt. Christ says so shall it be to us, if we don't forgive our brothers who trespass against us from the heart.
So several lessons come from this:
We are all saved and given the right to be called the sons of God because out of compassion/love, He forgave us of all our sins which we were meant to pay for by our own lives (symbolized by the ten thousand talents), this is how great a debt we had, but he chose to pay it by His own blood. So this should always run in our minds, that had we been tasked to pay for that debt ourselves, it would have never been possible to do so and so our journey of faith started by us receiving so great a measure of Grace: Romans 5:17 – "For if by one man's offence death reigned by one; much more they which receive abundance of grace and of the gift of righteousness shall reign in life by one, Jesus Christ.)
In life, there's never a situation where we will be asked to show more grace than that which we have already received, (symbolized by the hundred pence). Many times the small instances we're meant to show grace are just but fractions of what Christ did for us. If we walk with this fact in mind then it makes it easier for us to see others through the right lenses which are the lenses of Christ Himself, referring to the woman who was caught in the act: "And they which heard it, being convicted by their own conscience, went out one by one, beginning at the eldest, even unto the last: and Jesus was left alone, and the woman standing in the midst." – John 8:9 KJV, you realize that after their consciences convicted them, it sank deep to them that there's so much they'd done that warranted a similar judgement and so it speaks to show that we are always so quick to see what others do instead of showing Grace to them just like God did to us, but if we have it in us that there's much that God has done for us already, we will always be aware not to be the first to point fingers but the first to show grace.
We are all fellow servants in this kingdom. Many times we tend to forget that we are here courtesy of the same process and gift of salvation. No matter how rich, how poor or whatever class of society we come from, let's never forget we are fellow servants all running towards a common goal, to please the master and to make it to the end still holding onto the faith. This calls for a team spirit, one that strives to see our fellow servants excel, be at peace and make progress at all times. So for this guy, he didn't consider his fellow servant as a brother but rather as a servant to him simply coz he owed him something small. Let's never forget, there's only one master and we are all servants in his kingdom and everything we have is His. We are but stewards so regardless of how much we have or know, we aren't owners, we're all servants in different respects.
It is his fellow servants who saw what he had done, felt sorry and went to the master to report him. So notice something, people are watching and the greatest sermon you can ever preach as it's commonly echoed is how you live your own life. The fellow servants weren't pleased or rather were discouraged by what they saw this servant do to their very own and the question today is, what account can men give about you as a Christian? What account do those who interact with you often have about you? Let's strive to speak to people's lives through our actions because the fact and truth is, people, are watching you wherever you go and so gain favour before both God and men like Christ did – Luke 2:52 – "And Jesus increased in wisdom and stature, and in favour with God and man.", don't just focus on pleasing God, let fellow men be partakers of your fruit.
God desires us to show Grace just like he showed Grace and most importantly from our hearts. Anything done just for outsiders to see or for the purposes of publicity should cease because it's synonymous with having not done it at all. Let Grace be a fruit of our hearts.
Other notes from the Bible study;
What is grace?
It's the intermediary between us and the LORD!
It's the spontaneous, unmerited gift of the divine favour in the salvation of sinners, and the divine influence operating in individuals for their regeneration and sanctification.
Matthew 18:21-35
What stands out from the Scripture passage?
The merciful master went beyond granting his servant's request for patience in repaying the debt and cancelled his debt altogether! (v. 27)
It is very rare in our society to find an individual freely forgiving another's debt amounting to millions of dollars! Extraordinary.
How quickly the servant forgot the grace that was shown him! It was as though the reality of his enormous debt being cancelled did not sink in, because he soon after demanded his fellow servant to repay a (much smaller) debt he owed him, and even had him jailed for not repaying it upfront!
Forgiveness is a heart thing. The servant felt entitled, hence his action of demanding his fellow servant to pay back what was owed. The first servant had been forgiven but was unwilling to forgive. His fellow servants were watching his actions and reported him to the king when they saw him mistreat the second servant (v. 31).
Question: How do we live our lives in others' eyes? (2 Corinthians 3:2-3) How do we radiate Christ's light after what He has already done for us?
V. 32 – Did the servant really beg the master to cancel his debt? Wasn't he begging to be given time to pay for everything? (Hmm…)
V. 35 – Forgiveness is a BIG deal to the LORD; it is in no way trivial and optional/negotiable as we may often be tempted to think.
Ephesians 2:8, John 1:17
At the end of the day, salvation must bear fruit.
Supposing as a believer you were faced with a terrorist situation where your expressed faith in the LORD Jesus Christ would put you in jeopardy – could get you killed! How would you respond?
Call on the LORD for wisdom to act for that moment. Our God is compassionate to all – believers and evildoers alike. He is able to enable you to respond in a manner that would cause that terrorist (and/or others) to surrender his/her life to Christ. Just be sure to listen to Him at that moment and obey.
In the event that you found yourself having denied Christ (Romans 3:23-24), be encouraged by Peter. He denied Jesus three times and yet was used by God powerfully in the early church. Romans 12:3 Jesus prayed for Peter in advance, that he wouldn't fall away from the faith after denying Him.
You can find yourself having lost hope and in despair, but never lose your faith. Faith is always what brings us back to the LORD – our place of refuge, strength and belonging. Never deny Christ; and yet in His faithfulness, He will draw us to Himself once again.
We need to rely more on the Holy Spirit, e.g. Stephen in Acts 7:55-56. Having the Spirit helps us do things we naturally wouldn't do in our own strength. Philippians 1:21
We are shown grace by God to then show grace to people.
Which people could we be holding things against? Oftentimes we tend to forget how we've wronged others, but never forget how we ourselves have been wronged!
2 Corinthians 3:18, Galatians 6:2 (the law of Christ is love), Romans 15:1, Matthew 22:37-40, Psalms 130:3
Forgiveness is a decision. The other person may keep poking at you, but decide to forgive regardless. It may be wise to keep a distance when the other party willingly and consistently hurts you – this wouldn't be out of hatred, but because such a situation makes it difficult to live amicably. Proverbs 4:23, Amos 3:3, Psalms 133:1
Conflict resolution may not necessarily be equated to forgiveness. Forgive the person, make peace with the situation, and let it rest, whether or not the other person chooses to forgive you.
In Christ, we are forgiven, and because we are forgiven, we have the power to forgive – to choose to forgive! Hatred is a burden we no longer need to carry. Only in forgiveness can we be free – a forgiveness that is well beyond our grasp, a forgiveness that can be found nowhere else but in Christ. For if the Son shall set you free, you will be free indeed!
Colossians 3:13, John 8:36
Forgiveness is by faith – you may not always feel like you've forgiven your offender, and the enemy could make you feel guilty about that. But by faith, stand in the knowledge that you have fully released the other person. Similarly, we believe that Christ forgave us, whether or not we feel forgiven at times… Praise be to God!
We often struggle with unforgiveness because of a feeling of entitlement. What Christ has forgiven us for is SO much more than any wrong thing anyone could do against us!